Google Android Tag's Archives
HTC Nexus One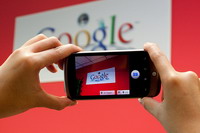 HTC Nexus One with T-Mobile USA has been bringing a lot of new improvements with the additional benefit of Google. This is a rather powerful handset with lots of new features that bring you ease at work. You can work with this mobile being one of the very first owners of this carrier handset.
This is a handset with manual projection that brings some of the most important features that help you network really fast. Check out SlashGear to make way for the most important parts of understanding the new T-Mobile range. Click here to read more …
According to HTC's chief financial officer Hui-ming Cheng, his company is still considering to launch a phone that will run the new Android UI from Google as well as from others.
The handset is being rumored as still unknown HTC Dream and it is expected to ship in fourth quarter this year.
Though some network operators have shown interest in the handset, still no company has announced in UK to carry the handset. Click here to read more …
Michael Dell, founder of Dell computers tells in an interview that his company is considering introducing a new smart-phone, but he admits that it will take some time for such a device to hit the market.
Michael Dell further told that their move towards open source mobile operating system like Google's Android and Nokia's Symbian would promise an exciting time for the company. It is worth mentioning that Michael became the head of the company in an attempt to save from a bad patch that made the company fall behind rival Hewlett Packard. Click here to read more …