HTC Archives
HTC are a Chinese company, based in Taiwan, specialising in developing high end smartphones that continually push the boundaries of what is possible on a mobile phone.
They have had massive success over the last few years, with phones such as the Wildfire selling all over the world and bringing the Android operating system to the forefront of mobile phone software. One phone above all others has made HTC one of the biggest mobile phone developers in the world and still continues to sell extremely well into 2011, despite being almost a year old.
This phone is, of course, the HTC Desire. The phone has exceeded all expectations and with the release at the end of 2010 of the High Definition version of the phone, the HTC Desire HD, it seems as if the phone's future looks just as bright as the last 12 months. Click here to read more …
HTC Nexus One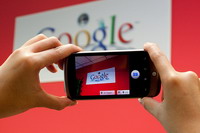 HTC Nexus One with T-Mobile USA has been bringing a lot of new improvements with the additional benefit of Google. This is a rather powerful handset with lots of new features that bring you ease at work. You can work with this mobile being one of the very first owners of this carrier handset.
This is a handset with manual projection that brings some of the most important features that help you network really fast. Check out SlashGear to make way for the most important parts of understanding the new T-Mobile range. Click here to read more …
HTC mobiles are now up for something new with their latest inventions popping up. They have shown themselves to be one of the most powerful Asian firms to be around with new Touch.b idea. This idea has been released via the web and is expected to be a continued sensation carrying forth in the next year. However the last release from HTC has not been as powerful as it should have been estimated. But that doesn't stop HTC bringing forth new and incredible inventions our way. Click here to read more …