Brands Archives
Microsoft Bing is making efforts to be replaced with the Google, as the primary search engine of Apple iPhone. The discussions and negotiations are being under going in between Apple and Microsoft Bing, till the last reports.
Due to the rising gap in between Apple and Google, the options are being discussing by the superiors from weeks now, to replace Google. Bing is taking the advantage and pouring into this to fill the rifts occurred. Click here to read more …
Motorola Inc. the true competitor in mobile technology announced a new and first time launched Korean Smart Phone, the Motoroi, powered with Android version 2.0
Motoroi is expected to provide a great experience to all the mobile users with the new features and technology installed in it. A great look, designed beautifully by experienced and leading team, quite long in the field of technology. Now launched a fully compatible phone, with one touch zoom browsing options and advanced navigation systems for music, videos and maps. Click here to read more …
HTC Nexus One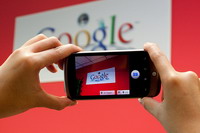 HTC Nexus One with T-Mobile USA has been bringing a lot of new improvements with the additional benefit of Google. This is a rather powerful handset with lots of new features that bring you ease at work. You can work with this mobile being one of the very first owners of this carrier handset.
This is a handset with manual projection that brings some of the most important features that help you network really fast. Check out SlashGear to make way for the most important parts of understanding the new T-Mobile range. Click here to read more …
Nikon Coolpix S1000PJ
This is a great fantasized projector with much built in systems coming through digital camera. This was published through the review of bringing the world's very first and current only digital camera with such in-built projector facility. Now the question is if this is really worth the big hype that is being made about it. The special features are coming through rated reviews along with some of the compact camera facilities. The buzz is really intense with this camera. From WiFi on the Coolpix P3 this has come to be evolved in a greater way. Click here to read more …